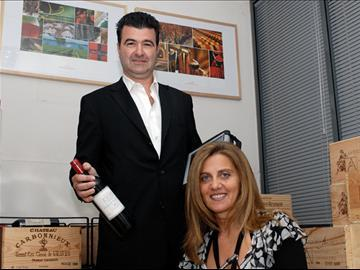 In November 2006, in Portugal, a country known for its wealth of wines and liqueurs, a new company formed by the couple Isabel and Christophe Collas, was born.
The couple dreamed for years to develop and share with their friends their passion for French wine as well as wine from the world.
Thus, through their contacts with the family in France and more precisely in the vineyards of Bordeaux, was born the new project, Wine-Time Europe Lda, offering to individuals and businesses a range of wines, from a rigorous and meticulous selection, proposing a precise catalog for all budgets and from the best "terroirs".
The company quickly acquired an important place in the specific sectors Gourmet of Portugal as well as in the Horeca channel and started without any delay to the second phase of the project, namely, started introducing new categories of drinks from other French regions, such as champagnes, aperitifs and spirits (gin, vodka, brandy, liqueurs).
In 2012, the company came out from the "French" environment and began its third phase targeting international drinks, rand taking exclusivities on international brands either for Portugal as well as for the Old Portuguese colonies such as Angola and Mozambique.
Wine-Time Europe products can be purchased directly online on this website and in physical stores such as El Corte Ingles, Delidelux, E-Leclerc, Intermarché, Makro, and Tax-free shops of the Portuguese airports, among other fine places.